How To Get Started With Influencer Marketing?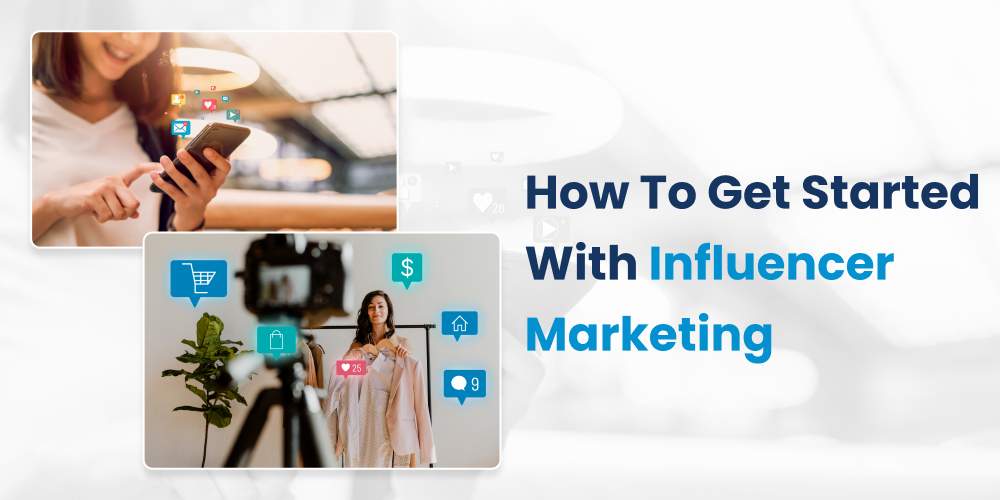 Influencers are everywhere online, more particularly, on social media. They engage and entertain their followers through regular content posting in their field of expertise. They review products and influence your purchasing decisions.
Brands have capitalized on the popularity of influencers and their large follower base to endorse products and services. It has given them astounding results.
If you are a growing enterprise, it is the right time to start influencer marketing for your brand. With more people on social media, influencers are more important than ever.
How to get started with influencer marketing?
The idea behind influencer marketing is to reach the audience effectively. Influencers or content creators play a pivotal role in increasing brand awareness and boosting online conversions.
Let us now see how to get started with influencer marketing.
Study your audience-
Your influencer marketing starts from knowing your audience. What is your product about? Who will be interested in it? If it is a sneaker, your audience is the young generation and millennials. If the product is a toy, you will be targeting moms and dads. Study the audience and their interests. It helps you in building a strategy or a goal for influencer marketing.
Determine the strategy and influencer marketing format-
Why do you want influencer marketing? Is it for brand awareness, or do you want to create a buzz around the product launch? Once you identify the needs, it is easy to make a solid influencer marketing strategy. Brands can use different influencer marketing formats depending on their strategy.
Brand awareness & increasing followers- Mentions, product demo, giveaway contests, social media takeover, theme or hashtag campaign, product placement
Website Traffic- Discount code, brand ambassador, sponsored content, pre-release campaigns, unboxing.
After deciding on the influencer marketing format, the next step is to find relevant influencers.
Collaborate with the right influencers-
There are many ways to find the right influencers for your brand. You can start from social media platforms. The Google search engine also gives you results for influencers in your niche. Also, influencer marketing platform is great to find influencers in your niche and budget.
Once you find influencers, contact them and talk to them about the fee and terms of collaboration. You get an idea of what you can expect from them and what they will deliver.
Create engaging content-
Influencer marketing resonates with the audience because it is not forced. Influencers promote the products in different ways giving an authentic touch to them. They relate the product through real-life experiences and make their followers believe in the goodness of the product. Brands have to offer content liberty to their influencers because they know their followers better. They will be able to create content that fetches higher engagement.
Start the influencer campaign-
Start your influencer campaign on all social media channels and promote it aggressively. If the post gains traction in the first few hours of posting, there are more chances of it going viral. Your task is not done after posting. Review the audience comments and answer their queries. Encourage them to share the post.
Measure the result-
Influencer marketing gives instant results. But the traction continues for a long time. Measure the KPIs such as impressions, follower count, shares, likes, and comments. If you have created a unique website link and asked your influencer to promote it, track the website traffic through it. If you are running more than one campaign, study the result and see which one works the best for your brand.
What will influencer marketing look like in 2021?
Influencer marketing has changed much in 2021 after Covid-19 hit the economy. With the marketing expenditure taking a hit, brands are focused on increasing the engagement rate rather than brand awareness.
Using micro-influencers
Brands are realizing the power of hiring micro-influencers for the job. They produce authentic content that resonates with the followers. Their endorsements do not look forced. The micro-influencers enjoy great engagement rates and generate a buzz around the brand and the products.
Using tiered influencer marketing
Instead of hiring a macro-influencer or a celebrity, brands now collaborate with multiple mid and small-level influencers. They use the tactic of tiered influencer marketing to get higher brand awareness and engagement. Even the big brands have started approaching many mid-level influencers for endorsing products.
Forging long-term relationships with influencers
Influencer marketing is not just about hiring influencers and paying them for product endorsements. Brands now forge a long-term partnership with influencers that helps in authentic and loyal endorsements. It saves time for brands to search for new influencers each time. The influencers become brand ambassadors and build a sense of community around the brand.
Focus on audio & video
YouTube showed the world the power of videos. Similarly, TikTok popularized the short video format. The young generation prefers the video format of content, and brands were quick to respond to this.
With the popularity of the social audio app Clubhouse, there has been an upward growth in other platforms creating their in-app audio channels. Twitter, Facebook, Spotify, all are now in the fray to join the social audio bandwagon.
The future of influencer marketing is inclined to audio and video formats. Brands utilize influencers to endorse products through unboxing, product demos, and sponsored content in video formats.
A/B influencer campaigns
Instead of creating single campaigns, brands create multiple A/B influencer campaigns to test which works the best. After analyzing the result, the best is continued, and the rest are tweaked for better performance.
Frequently asked questions on influencer marketing
When starting out on influencer marketing, brands find it challenging to decide on the influencers and budget. But the right strategies coupled with the right content will help them attain success in increasing brand awareness and sales.
How much does it cost to hire influencers?
It is a myth that influencer marketing is costly. With more and more mid and small-level influencers crowding the social media platforms, influencer marketing has become affordable. Based on the marketing budget, brands can collaborate with multiple influencers to endorse their products. While the micro-influencers may charge between hundreds to thousands in dollars, the macro-influencers and celebrities charge thousands to millions.
Where to hire influencers for my brand?
Instagram is a great place to start searching for influencers. Following relevant hashtags and influencer profiles will give you an idea of their audience and the type of brands they are associated with. But more than half of the brands find it challenging to get the right influencers for their brand. One solution is to hire the service of an influencer marketing platform. Brands do not have to worry about hiring influencers or designing campaigns. The influencer marketplace does everything for them.
What are influencer marketing platforms?
An influencer marketing platform or an influencer marketplace is the best option for brands to collaborate with influencers in their niche. It connects brands to influencers and also designs marketing campaigns effectively.
What are the KPIs to track in influencer marketing?
Track influencer marketing KPIs such as impressions, likes, shares, comments, and increased follower count with analytics. Provide the influencer with a unique code or link to track the website traffic. Also, creating a separate landing page for products to be endorsed gives you the sales metrics.
Is influencer marketing effective?
Influencer marketing is effective if done the right way using pre-planned strategies. Also, 50% of the brands do not analyze the KPIs in influencer marketing. Tracking the results is as important as running the campaign. It gives you an indication of how successful your campaign is. Influencer marketing gives you $18 in return for every dollar spent. Also, 9 out of 10 marketers believe in the power of influencer marketing and use it in their brand marketing strategies.
Read More: How Instagram Link In Bio is Essential For a Company
Conclusion
Influencer marketing is a different marketing approach. It is a lot more personal and it works. Have you tried it yet? If no, get started with influencer marketing today!