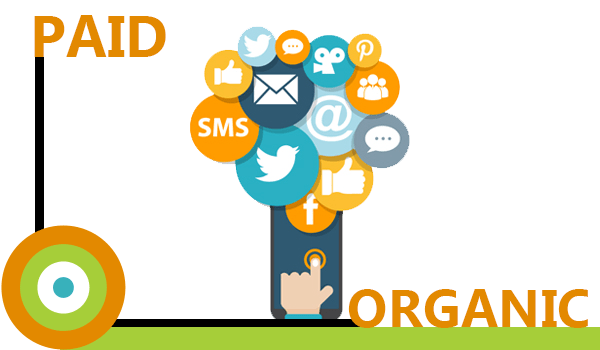 Growing a business digitally is not an easy thing. It takes time, patience, strategy, and a good amount of investment. Social media plays a vital role to grow business in the digital world. But to build a successful business you need to be active and should know about organic and paid social media marketing. Moreover, you should know the difference between them before evolving them into your business strategy.
Organic social media marketing
Social media comes in both ways- paid and unpaid. Unpaid social media platforms called organic. Anyone can use organic social media to nurture their business free of cost.
Ever wonder which organic social platform would be suitable for your business? Or how to use it to stimulate your business? Don't stress your nerves! Read below to get all the answers.
Many businessmen think to use every organic social platform as it is free of cost. Generally, it sounds good but digitally it is not. Use it as per your industry and targeted audiences. For example, if you have a lifestyle pertaining to business then Instagram, Pinterest, and Facebook would be great choices. Let's say you opted for Instagram then you have to maintain your account accordingly. Post engaging content with quality pictures. You can also post interesting stories to lure customers' attractions. That promptly enhances sales.
Benefits of organic social media marketing
It is a free source medium to promote your brand.
You can post as many as content you want.
Reply directly to customers' queries.
You can circulate a free campaign using hashtags.
Establish an initial level of communication.
With this, you can perform various experiments to grow your business.
Paid social media marketing
Paid social media marketing is the process of posting advertisements or sponsored messages on potential social media platforms. You have to invest money to promote and spread awareness about your brand. It is a much more effective marketing tool to boost your business.
You can use various modes of paid social ads like lead generation ads, ads for product sales, brand promotion ads, and get influencers to generate potential leads.
Nowadays, almost every social platform has a paid promotion feature. For example, Facebook and Instagram which are widely used social media landscapes in the present days have paid promotion features too. Using it, you can widely catch the eyes of desired audiences. Create social media ads to get more potential customers.
Besides, many lifestyle brands are using Instagram influencers to promote their products. They collaborate with them according to their followers. Thinking how it works? First, they initiate a conversation with one of the influencers. Then, they make a deal. Afterward, he will post a picture or video with the product according to a deal. That will promptly be seen by his followers and some of them end up purchasing the product. For an unprecedented hike in sales, try a digital marketing company in Amritsar.
Benefits of Paid social media marketing
Promote your brand vastly.
Paid campaigns assist to mitigate your brand value.
You will get convertible leads.
It will also boost your organic posts.
Help you to reach more people in no time.
Can we use both mediums?
If you really want to grow your business more effectively then you should consider both organic and paid media marketing. Using both simultaneously will give your brand a novel identity and nourishment. An organic medium onboard your brand online at no cost and paid medium will heighten it. Thus, for an unbelievable outcome, you must use both.