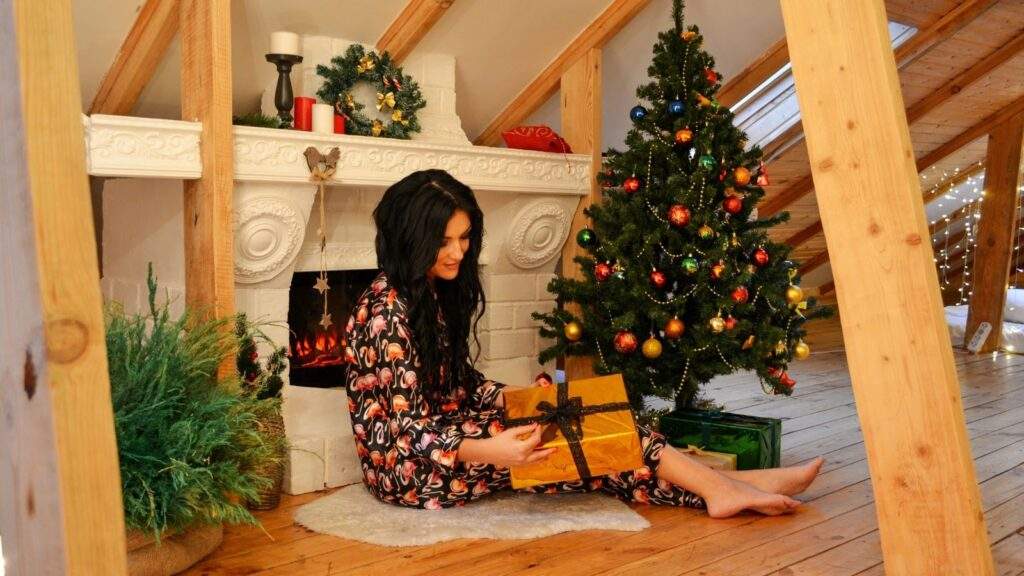 Whenever I think about Christmas, I have a big smile on my face. The vibes of Christmas are different, we decorate the interior home design with lights that look very beautiful. This is one of the most awaited times of the year or you can say that favorite time of the people. Well, along with Christmas people are happy for the New Year too. Like we all know that when guests come to the house, a lot of preparation is done for them. In this same way, people are happy to welcome Christmas, and this just like a new year.
When I was in school our teachers used to decorate the Christmas tree and this work was my favorite still, it is my favorite and I know yours too. I love to decorate it with bells, stars, cotton, and most important with lights. After decorating the lights on, I wish that I could keep this tree for the whole year.
Most of all I was also happy to think that if I decorate the tree well, then Santa will give me a big gift and I know that many of you must be sleeping with the same thinking. It makes me happy when I think of these things now. If you want to decorate the house for this, then start preparing for a month in advance so that ideas are not puzzled and you can decorate it comfortably.
But if you have not started anything yet, then it is not too late. Let me tell you some of my ideas that you can make your Christmas memorable.
1. Decorate your Windows and Door:
It is very important to decorate the house from the inside but it is more important to decorate your house also from the outside. Because people first notice your house from outside and then from inside.
Decorate your window and doors with fairy lights. It will give effect to your home like magic land and it will also be easy to decorate.
If you want to decorate more beautifully, you can hang the ribbon with the colorful stencil and hang it on your window or door. If you have a side table or bookshelf, then you can decorate it with different color ribbons.
2. Candle lights:
As you know whenever we talk about it we can't forget about candles. Candles are one of the most important items for Christmas decoration. Candles will be seen everywhere on Christmas and it also gives the feeling that yes! Christmas is today.
Nowadays, there are so many types of candles available in the market, some floats in the water, there are some magic candles but whatever it is, it looks great!
If you don't want this type of candle, you can tie a simple red-colored ribbon on a simple candle. Or you could take a different size candle in a plate and place it on a cute little doll with it.
3. Stocking for Christmas decoration:
Stocking is decorated at Christmas from earlier times. You know when I was younger I used to think that Santa keeps gifts in a stocking. But my father secretly kept a few gifts and when I saw those gifts, I was very happy. How funny are childhood things?
Well, now come to the point. If you decorate the stocking in your home, it gives a classic aesthetic look to your home.
You will get a lot of colors stocking and I would recommend you to decorate with red and green and you can also add some pom and bells which gives the total Christmas effect.
4. Wallpaper and Color:
If your mood is that you have to change the color of your room and the living, then this is the perfect time to do it. You can decorate your small home designs nz with different shades of pastel color.
Pastel color looks very good on the wall at the time of Christmas. You can choose a variety of colors like baby pink, peach, blue, butter yellow, etc.
By the way, you can also try red and green colors if you like some dark colors. But if you are fond of light color like me then you can go with pastel color.
5. Furniture and its furnishing:
If you think that furniture is not part of decoration then you are wrong. Furniture gives a great effect on your decoration.
It is not enough to just keep the furniture in the house, It's furnishing should also be proper. You can put a good cover on your sofa that matches your interior and wall.
You can add some decant type of pillow cushion or some Santa printing covers that will make you feel full of Christmas. And for a better look don't forget your bed too.
Don't forget to decorate your Christmas Tree
I know you guys must have been thinking for a long time that I have not mentioned the Christmas tree anywhere because I wanted to talk about this topic at the end. As I told you above that, decorating the Christmas tree is my favorite part. Well, it is not compulsory that there should be a special tree to decorate the Christmas tree. If you have another tree then you can decorate that one. But if you absolutely want a Christmas tree, then in the market you will get a lot of artificial trees.
Start with the lights, as you know fairy lights give an amazing effect to anything. So don't forget to decorate the tree with lights. After lighting is done then put the bells on the tree. You can take some colorful bells or sound bells. You can add some ribbons to it if you want some vintage effects. Want to give some floral look? You can add some artificial flowers to it which gives your tree some natural feeling. Place some cute toys around the tree like trains, cars, teddy bears, and gifts.
The tree decoration is among my personal favorite tip to decorate my home and Christmas tree. If you have your own personal DIY tips then you can add that as well. There are so many decorating ideas which you can find on social media. At last, it's all about your ideas and design for your own home. Merry Christmas!