Indian Traditional Clothing Guide To Choose Perfect Ethnic Wear
Incredible styles of ethnic wear are attuned with Indian tradition and culture. Indian women love to wear sophisticated yet simple appearing clothes. Moreover, it's like a cherry on the cake if the outfit blends very well for any occasion. So, in this article, you will find the answer to your everyday question of how to choose enticing ethnic wear. Hope this Indian traditional clothing guide helps you in finding the best options.
The Occasion
The type of dress does not depend on the reason for wearing it. No girl, including you & us, would like to wear a crop top and denim in religious function. Do we? No!!!
So, the first thing is knowing the occasion. If it's a wedding, then a lehenga is best.  Pair it up with a beautiful traditional jutti to complete an ethnic look for the wedding. For an evening party, a fine piece of Georgette saree is enough to grab the attention. Moreover, you can carry eye-pleasing accessories to adorn the overall party look.
Body type
Knowing about this is the most vital point. Not every dress can give you an ethereal look. A diaphanous saree looks good on slim girls. Whereas, an Empire-line Kurti accentuates the curves of curvy women. Also, if you have a rectangular body shape, you can try to add a few curves to your shape. Such curvy volumes will add a graceful touch to your attire like never before!
Skin Complexion
Your skin complexion can help in curating the perfect ethnic match. There are various skin tones. Majorly, these shades are divided into fairer, olive or medium, and darker tones.
So, if you have a fairer complexion, then you can combine darker shades in your outfit. Ethnic wear in brown, bottle green, navy blue, burgundy, & Magenta colors will accentuate your beauty. Not to forget, you should avoid pastel or soft color shades like beige, rosy baby pink, white, etc.
On the other hand, if you have olive or medium skin complexions, then you should look for a little brighter shades. For instance, when you are opting for a bold purple shade, you must prefer magenta over mauve. Such a color shade will suit on your warmer skin tones. What shades to avoid? So, you must ignore colors like yellow & green as they closely matches your skin undertone shade.
Lastly, ladies who have darker skin complexion can try out cobalt blue or jade green color. However, if you have darker complexion, then you should always skip brown color outfits. The reason being they closely match with your skin tones. As a result of which, your outfit does not make you stand out.
Personality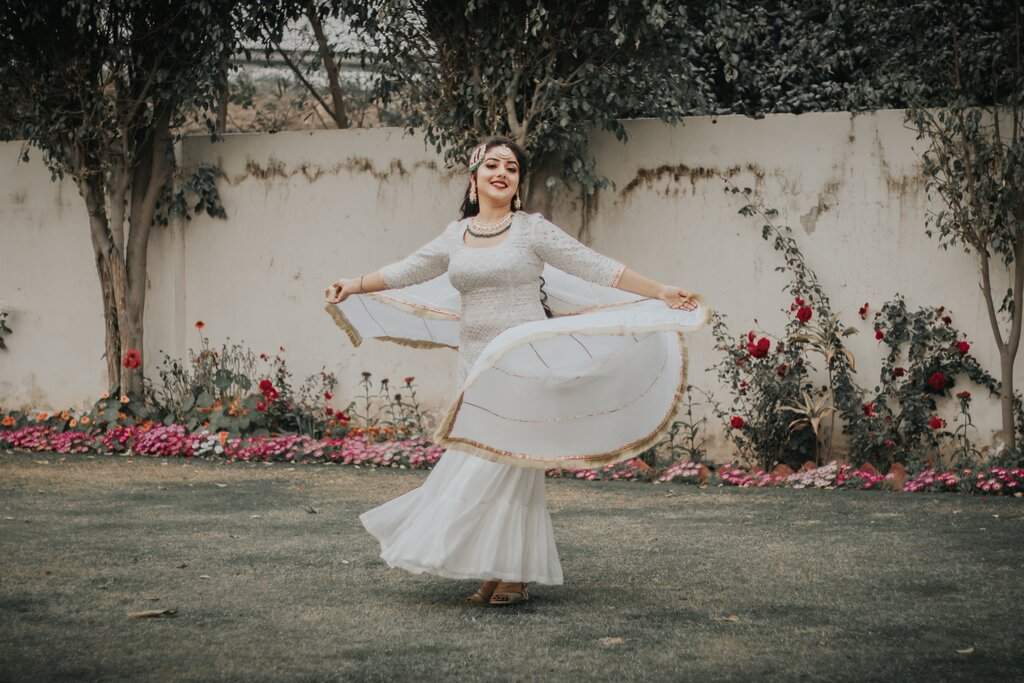 A serious person may like to wear aesthetic clothes, such as a formal Kurti or Anarkali. But, on other hand, a cheerful person loves to experiment with their outfit. A good fusion wear always steals such a person's gaze. So, the bottom line is to select your ethnic wear as per your personality.
Know Your Pocket
It's significant to spend as much your pocket allows. Don't hoard yourself with unnecessary shopping. Not everytime what you find eye-turning looks D-best on you! Designer Lehenga, saree is already costly, so choose your outfit wisely. You can look glamorous in apt wear. No matter what you are shopping, make sure that you opt the one which is worth the price and quality. It is the best tip while curating any outfit.
Accessories
The correct accessory can add up to your quintessential ethnic wear. A jewellery is something that accentuates your look for the day or ruins it. So, it is an important factor while learning Indian traditional clothing guide. The right selection of jewellery, shoes according to your dress is very important. Silver jewellery looks good on sarees.
Bye-Bye Wrong Fitting
It's a well-known fact, the right fitting gives an aesthetic appeal to your appearance. So, make it a ritual to try every outfit much in advance. Look whether it's too tight or loose. Also, always suggest your tailor keep the perfect fitting. Your Anarkali should be of proper length. And, your lehenga shouldn't be too tight in any case.
So, here are a few must-know points for you to easily choose your ethnic wear.
Also Read, Top 6 Stunning Fashionable Indian Salwar Kameez Designs