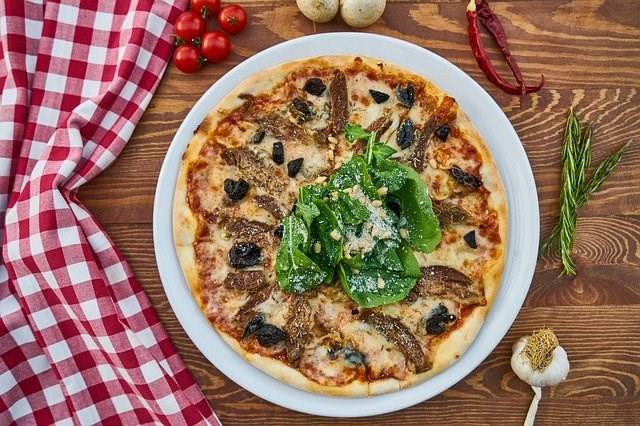 Pizza is a favorite dish of many individuals all over the world. Although there are much delicious pizza recipe that people may try, this one is simple, easy, quick, and delicious for a beginner. The one who is trying to make pizza for the first time, those are always searching for a simple recipe on the internet. Hence, here is the one that you can try and make your pizza within 30 minutes after collecting all the ingredients. Yes, if you have an oven, microwave or tandoor then it is an add-on to add flavor to your pizza recipe.
Ingredients Required:
Pizza Base – 2 No.
Pizza Topping – For spreading
Capsicum- 30 gm
Onion – 30 gm
Corn – 30 gm
Mushroom – 30 gm
Tomato – 30 gm (or any other that you like)
Oregano – 20 gm
Chili Flakes – 20 gm
Salt – To Taste
Tomato Paste – 50 gm
Mozzarella Cheese – 50 gm
Mayonnaise (optional)
Methods to be Followed:
First cut all the vegetables in square shape and grate the cheese in a container.
Make tomato paste at home or buy it from the market.
Now, pre-heat your oven or microwave or stove if you are making it on Tawa for 10 minutes.
Take the first pizza base, and spread tomato paste or mayonnaise (optional if you like).
Now, add vegetables on it and spread them evenly over the base.
One can make only corn or onion pizza or make a full mixed vegetable cheese pizza as per your taste.
At last spread cheese over the pizza base and add the seasoning. It will enhance the taste of your delicious pizza recipe.
Follow all these steps in sequence. Yes, you can add or subtract the quality of raw ingredients or can replace some vegetables. But add the ingredients in the same sequence. For example, first, take the base, add tomato puree then mayonnaise as an optional ingredient, then vegetables, cheese, and seasoning. In this way, you can prepare a wholesome dish with most delicious recipes.
Is pizza recipe good or not?
We can understand this point in two ways. There are cons and pros of everything, hence, similarly, there are some pros and cons of pizza too. Go ahead and read about the same.
Pros:
It is a tasty and fascinating dish for kids.
Very popular eating dishes in foreign countries and getting a hike in the idea at a speedy rate.
Easy to make at home and fewer ingredients are required.
It can be prepared through various equipment and one can follow the steps easily to make it in evening snacks.
Cons:
Healthy food is becoming more common among people due to various health issues.
People are facing many health problems due to excessively refined flour in their meals.
Hence, many people won't like it and prefer more healthy dishes.
But cons are not really cons if you are adding more vegetables and tomato puree in it. It will be a healthy dish with more nutrition value.
Bottom Lines
Hence, we have enlisted a delicious dish that you may prefer. It could be prepared at house parties or as a snack. Many varieties are available of this dish and one can buy accordingly. Even chocolate pizza is in demand and famous nowadays.
Chefs are creative and hence, they are trying to use their creativity and mind to make an innovative dish. For any other query, please comment in the comment box and let us know how we can help you.