Creative Natural Hairstyles With Coily Hair
With all of the expectations for how hair should appear, finding a natural hairstyle that can make hair care simple is not always easy. A simpler haircut might make you look fantastic while saving you time in the morning with your naturally curly or textured hair.
Fortunately, simple and easy haircuts are extremely fashionable right now. Many of them are due to the epidemic and women's yearning for natural styles while confined to their homes.
Consider these eight easy styles for the remainder of this year and beyond if you are looking to do the same after spending far too much time fiddling with your curly or coily hair.
The Gorgeous Brunch Bun Hairstyle
On occasion, you have probably tried to make a bun with your curly hair but found it too difficult. A brunch bun is a less time-consuming method to accomplish this, and it looks elegant for almost any event, especially brunches!
To make this work, use a curling iron to strengthen your current curls. After that, make a sock bun out of your mane.
Go the extra mile and use a headscarf instead of a regular hair tie, which is another popular method to appear elegant with a simple hairstyle.
While this is the most basic hairstyle for curly or coily hair, it is also one of the most elegant and suitable for most formal occasions.
Leave a few curly strands around to frame your face, and use a style-holding spray to keep everything in place. Pair this beautiful hairstyle with earrings and a beautiful off-shoulder top.
A Messy Top Knot Hairstyle With Curly Hair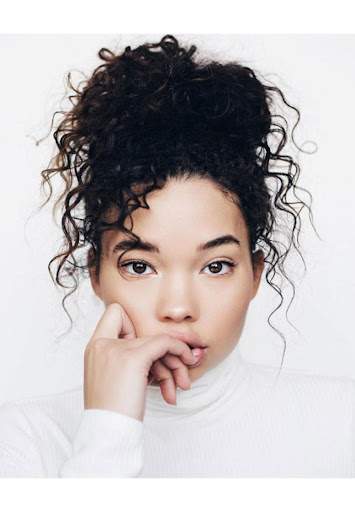 This messy top knot with curly hair is one of the chicest hairstyles for curly hair and is perfect for every occasion. The hairstyle is messy but on purpose.
It is a great way to show off your curls and is influenced by the iconic French chignon bun hairstyle.
Achieve the messy top knot hairstyle with your type 3 or 4, and make heads turn!
Use hair mousse to define your curls and coils when you recreate this hairstyle. Blow-dry to impart extra volume to the messy top knot.
You have the option to lower some of your curls once you flip the end of your hair under the bun. The appearance is sophisticated and ideal for any event. It performs the messiness in a deliberate atmosphere without unrest of hair.
Side-Parted Bob With A Lot Of Texture
The bob is now considered one of the simplest and easiest styles by many women with curly or coily hair to care for.
A bob cut known as spunky spirals is a great technique to showcase the curls around the length of your chin. Glossy black curls are very suitable for the style. It doesn't take too much time to create either.
This side-parted bob with a ton of texture is one of the easiest natural hairstyles to recreate. You need to layer the textured curls with hair mousse for a defined look. This hairstyle is ideal for formal and casual events.
Coily Pixie Hairstyle With Long Layers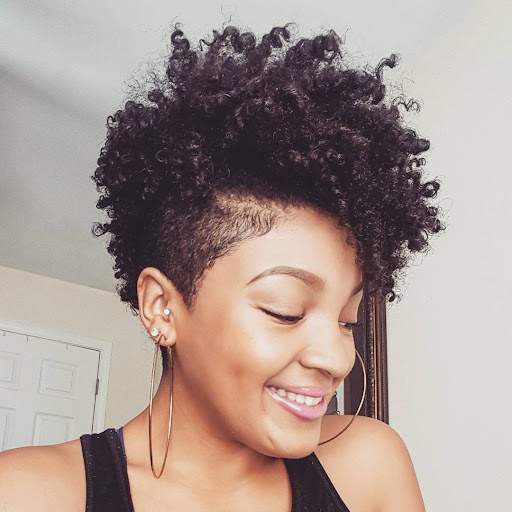 This coily pixie hairstyle with long layers is certainly not a new hairstyle, and women have sported the hairstyle for decades. Today you see it more commonly, of course, as it makes hair so much easier to look after when life is too busy.
This coily pixie hairstyle might sound complex for women with coily and textured hair, but it is not. The pixie hairstyle is in many ways better than a straight style. The curly pixie of Halle Berry is probably the most well-known of all, one she wears now. First, you need to get an excellent blow-dry primer to guarantee that you seem smooth and flawless.
It is an amazing hairstyle that looks great with dresses and casual outfits.
The Twisted Halo Hairstyle
This year the twisted halo is one of the trendiest natural hairstyles. This style can be worn for days without maintenance as long as you tie the halo before you go to bed.
This hairstyle has become a favorite among black ladies lately. You have to part your hair in the center and slide the sections with a pin to the side.
After mixing moisturizer and hair gel, take each part of your hair and turn it upward to your hairline. Then each hairpiece needs to be turned into a two-beamed twist. Cross your head with the twists for this distinctive halo style.
Women tie the twist down to protect it from harsh weather; it's an easy hairstyle you can make at home. Moreover, you can get away from unwashed hair until you get around to washing it.
Curly Space Buns Hairstyle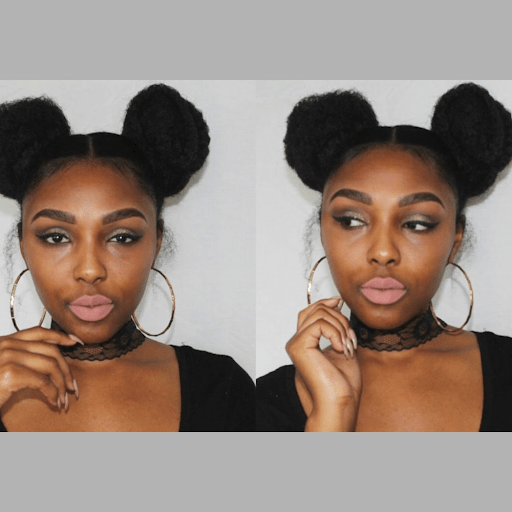 Who remembers Princess Leia's space buns? She inspires this curly space buns hairstyle, and the curly and coily hair offers additional flair to the hairstyle.
The hairstyle is not as complicated as the hairstyle looks. To achieve this look, you need to center-part your coily hair, detangle, and tie a pigtail on each side. Choose the height of the space buns and tie them individually. You can also use weave hair to achieve a fuller look.
High Curly Ponytail Hairstyle
Celebrities have sported this gorgeous hairstyle for years, and it's easy to see why; the hairstyle provides a wow factor whether you have type 3 or 4 hair.
Make sure that the ponytail is as high as you can. Put numerous pins beneath the loose section to ensure that it is secured deeper, as this helps elevate the elastic. Secure the high curly ponytail hairstyle with a hair tie.
That's essentially everything, with your only difficulty being how to keep your curls bouncing. Use a curl cream to keep the curls looking lustrous.
Go the extra mile and style your baby hair for a uniform look.
This high curly ponytail hairstyle is great for every occasion and looks fantastic with various outfits.
A High Bun With Curly Bangs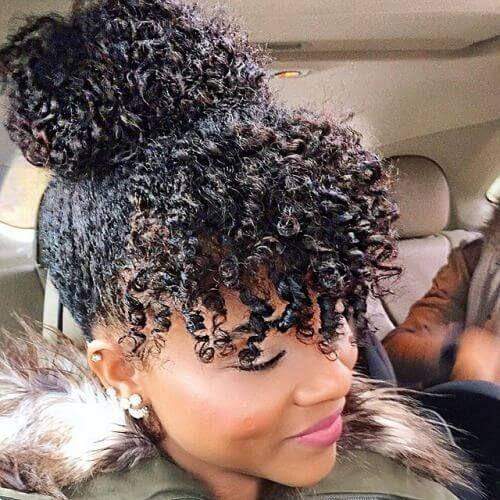 This high bun with curly bangs is another beautiful style that you need to sport with your natural hair. It is one of the trendiest natural hairstyles.
Flaunt your naturally curly texture without manipulating it with heat. There are a few variations known as the messy cascade hairstyle. You have the option to let the curly bangs hang lower-depending on their length.
Regardless of how you style the look, this natural hairstyle is great for every occasion-post covid.
Finding and sporting natural hairstyles is not easy, but you will make heads turn wherever you go with these eight hairstyles mentioned above.
All eight hairstyles are easy to achieve and always on-trend.